Chloe Valentine @ Gallery 291, Opens Saturday August 3rd!
Submitted by Sadee on Wed, 07/31/2013 - 22:01.
Wednesday, Jul 31: Chloe Valentine @ Gallery 291, Opens Saturday August 3rd!
Posted by Sadee
La Leona Arts and Gallery 291 presents Chloé Valentine
Exhibition on View: August 3 - September 30th, 2013
Opening Reception: Saturday, August 3rd, 5 - 7pm
Gallery 291
291 Wall St (Clermont Bldg), 2nd Fl, Suite 2A
Kingston, NY
845-340-8625
Hours:
Tuesday - Friday, 10am to 6pm
Saturday 9am - 12pm
The gallery, run by Jipala Kagan of Transpersonal Acupuncture, typically showcases bi-monthly exhibits by local Hudson Valley artists. Featured work is considered peaceful, reflective, inspiring, and contemplative, speaking to the suite of holistic practitioners whose offices surround the gallery.
Chloé Valentine is a self taught artist that weaves her creative expressions through drawing, painting, collage and fashion. She incorporates old and new objects into her decoupage and assemblages, building pieces that are intriguing and meditative. Oftentimes one can find beads, pieces of woven basket, washers, nails, glass and bones in Valentine's work.
Images of Mother Nature, animals, and shiny, pretty, dark and light things invite the viewer to explore the juxtapositions of mystery and fancy. Each piece is special and meaningful, as some of the found objects have lived with the artist for up to 20 years before finding their way into new creations.

Valentine, a natural entertainer, Co-Hosted and Co-Produced the TV Show, Apocalypse VARGA, for three and a half years. Apocalypse VARGA was the brainchild of Gallerist and Artist Christina Varga based in Woodstock, NY. During that time, Valentine also Co-Developed and Co-Produced a three day art and music festival called the Woodstock World Peace Project featuring thirty bands and over sixty artists. Her persona, a blend of her fondness for fashion and art, is crafted by select dress designs and ensembles. Each article of clothing, and accessory, adds color and form to the overall composition. This desire for arranging shapes and imagery reflects Valentine's innate ability for putting together and refashioning the old, beautiful, and transient into something new and surreal.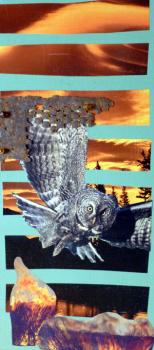 Add new comment