All my Abes by Suzanne V. Paddock
Submitted by Sadee on Tue, 04/16/2013 - 12:24.
Tuesday, Apr 16: All my Abes by Suzanne V. Paddock
Posted by Sadee
This show is absolutely fabulous!
Fun, quirky, & introspective...
All my Abes by Suzanne V. Paddock
Suzanne's work depicts unique moments and focuses on the emotional threads triggered by intimate and public relationships, memories, irony, loss, and death. She creates figures and scenes that convey real and fictional conversations.
Early 2012, Suzanne moved to Central Virginia. Her series depiction of President Abraham Lincoln, first developed when she resided in Kingston, NY has propelled her into a new arena of career success. Featured in many local media outlets, Suzanne has immersed herself in the arts culture of her new home, and is actively pursuing her love of creating realistic and surrealistic three dimensional stories on two dimensional surfaces.
View Suzanne's show On Display @ 11 Broadway, The Mansion House Storefront until May 31st.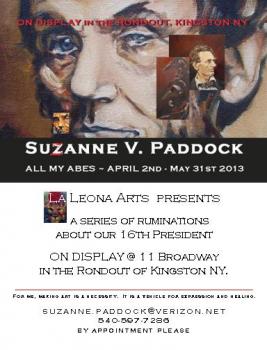 Add new comment