Art/Craft Photo Shoot!
Submitted by Sadee on Thu, 11/08/2012 - 00:21.
Wednesday, Nov 7: Art/Craft Photo Shoot!
Posted by Sadee
From The Art Riot...
Saturday, November 10, 2012 from 12:30pm to 4:30pm
A first of it's kind for us at The Art Riot, and sure to be a hit...
Allison Braun of Goats N Glory has offered to set up a photo shoot for our members stuff! Are you setting up that Etsy page for the holidays? Are you looking to class up your website? Do you need some new images of the great stuff you make to share with the world (or just your mom)?
$25 gets you one item photographed, $5 for each additional piece. We do need to limit the number of pieces to 5 per person to give everyone their shot- pardon the pun.
We will be setting up appointments for the day on the half hour marks starting at 12:30- the last available appointment will be scheduled for 4:00.
If you are interested, please set up your appointment ASAP! Sorry, we won't be able to take walk ins.
The Art Riot
36 John Street
Kingston, NY 12401
845-331-2421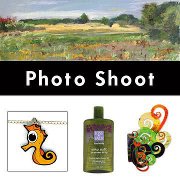 Add new comment