100 Artists/ 100 Dreams Film Premiere & "Dreamers" Exhibition
Submitted by Sadee on Thu, 09/15/2011 - 11:20.
Thursday, Sep 15: 100 Artists/ 100 Dreams Film Premiere & "Dreamers" Exhibition
Posted by Sadee
La Leona Arts presents
100 Artists/ 100 Dreams The Film
Premiering Saturday October 1, 2011
at Stella May Gallery Theatre
101 Greenkill Avenue, Kingston, NY
Featuring national and international artists
Curated by Sadee Brathwaite
As part of Ione's 16th Annual Dream Festival
Opening Reception & Gala 6:30pm
w/ Beverages and Bites
Film at 8pm. *Tickets: $10/ $8 BUY NOW
*Includes a glass of special "Dream Cocktail"
Afterparty at MINT, 1 West Strand, Kingston
with "Dream Specials" by Chef Graziano
"Dreamers" features artwork by local participating artists
On view October 1 - 27, 2011
Hours by Appt. Call 845-331-7955
100 Artists/ 100 Dreams is a dream exploration project that explores the concept of artists as visionaries and keepers of the creative fires. The Film examines feelings & colors in dreams, the dream process, lucid dreaming, the collective unconscious and the role of artists in society.
By focusing on the creative, recurring and prophetic dreams of visual artists, performers and musicians the project investigates what artist dreams say about their lives, their communities and the world.
For artists photos and updates:
www.facebook.com/100Artists100Dreams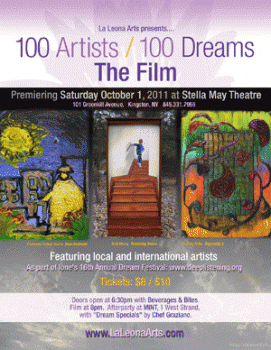 Add new comment