Submitted by Sadee on Thu, 02/28/2013 - 22:32.
Thursday, Feb 28: The Yoga House presents Artwork by Sara Street
Posted by Sadee
The Yoga House presents Artwork by Sara Street
Located at 57B Crown Street, Kingston, NY, (845) 706-YOGA, The Yoga House occupies the first floor of a house, and is comprised of a workout space and an exhibition area.
The gallery, curated by Pam Veach, features a new local artist every month. More often than not, the exhibited work is transcendent in nature, uplifting to the spirit, or connects to the unification of mind and body that yoga stimulates.
Sara Street will be showcasing her Silly Goose Series, with some of the goose practicing yoga. The series of cartoons began as a class assignment at Rhode Island School of Design in 1980. They enjoyed some popularity in the 80s, revived in 2010, and have been well received once again, at fairs and venues in the Hudson Valley.
Sara attended Massachusetts College of Art, the Boston Museum School, and the Art Institute of Boston. She studied dance at the Luigi Jazz Centre, the School of American Ballet Theater, and The Alvin Alley school. In 1995, Sara founded The Artists Alliance Against Violence Inc., a 501©(3) non- profit corporation which produced many community arts programs in Massachusetts, as well as videos addressing the arts as a means of creating peace.
Sara has formed and directed several interfaith contemplative dance groups in MA and NY, performing at Catholic, Episcopalian and Methodist churches. In 2006 she started A Perfect Gift: All That Is Jazz, music and dance review. This group is still performing in venues around the Hudson Valley. To learn more visit www.aaavinc.org.
Sara's background in dance and movement informs her visual art. Her drawings are graceful, and her forms possess a lyrical quality. The pieces both emanate a quite integrity and exude a charming humor.
The Yoga House will host an opening reception Saturday, March 2, 6 - 8pm. For studio hours, classes, and to view previous exhibiting artists visit www.theyogahouseny.com.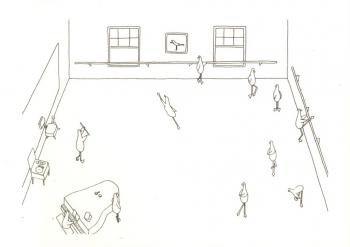 Add new comment