Submitted by Sadee on Mon, 09/09/2013 - 20:13.
Monday, Sep 9: La Leona Arts presents 100 Artists/ 100 Dreams The Exhibition
Posted by Sadee
La Leona Arts presents
100 Artists/ 100 Dreams The Exhibition
Milfred I. Washington Art Gallery
Campus of Dutchess Community College
53 Pendell Road, Poughkeepsie, NY
October 7 - November 1, 2013
Opening Reception:
Wednesday, October 9, 5 - 6:30pm
100 Artists/ 100 Dreams is an international dream exploration project focusing on recurring, prophetic and creative dreams of visual artists, performers and musicians. The project consists of a Film, an Exhibition, and an Installation. The first installment, The Film, premiered October 2011 at Stella May Gallery Theatre in Kingston, NY. The third installment, The Installation, will be a traveling dream like interactive environment that showcases the documentation of the project journey to be unveiled fall of 2014.
100 Artists/ 100 Dreams The Exhibition is the second installment and features art by participating project artists. A corresponding concert will be held during the O+ Festival, October 11 – 13, 2013, Kingston, NY, featuring a sound installation with live performance by project artist Lisa Barnard Kelley. Time and location to be announced as part of the O+ line up and Ione's 18th Annual Dream Festival occurring October to December, 2013.
O+ Festival is a three day festival of art, music and wellness. The Festival transforms several blocks of Kingston's Uptown Stockade District into a public art community with compelling and thought-provoking contemporary art and music.
Ione's Annual Dream Festival is an international celebration of dreams and dreamers curated by Kingston based author and dream facilitator Ione. This festival has taken place yearly since 1996 and is dedicated to celebrating the deeply creative aspect of dreams and the phenomenon of dreaming itself. Music, dance, visual arts, performance, dream telling, literary readings take place in "real" spaces in many countries and virtually with an ongoing Dreamers' Blog, live streaming broadcasts and telematic performances. Ione's Annual Dream Festival is a project of Deep Listening Institute founded by pioneer composer Pauline Oliveros.
100 Artists/ 100 Dreams curated by artist and arts advocate Sadee Brathwaite of La Leona Arts, was first conceptualized in 2009 as a result of Brathwaite's participation in Ione's Annual Dream Festivals since 2004. The project poses the questions, if artists are the visionaries of our communities, what do their dreams say about our society? And are artists in different communities in the country and around the world having similar dreams? What do these dreams say about our global society?
100 Artists/ 100 Dreams The Exhibition will display a mixture of painting, drawing, collage, photography, mixed media, and sculpture. Featured New York artists include Bardet Wardell of Stone Ridge, Lisa Barnard Kelley of Kingston, Matt Maley of New Paltz, and Ione. Other featured artists include Kathleen McHugh of Seattle, WA, Suzanne V. Paddock of Lynch Station, VA, and Toni Thomas of Newark, NJ.
The artist is cast as a powerful figure, a visionary, in 100 Artists/ 100 Dreams. Through participating in this unique long term project artists are building a community that recognizes and acknowledges that dreams are a powerful source of creativity. By meeting again, and again, through the different installments, local, regional, national and international artists form multicultural showcases, and discuss one of the most basic mental functions that connects us all, regardless of culture, heritage or ethnicity…our dreams.
Project participation is Ongoing. Visual art, music, and performance accepted. Contact Sadee for more information and an application.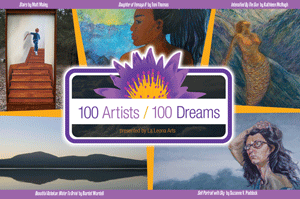 Add new comment