Biography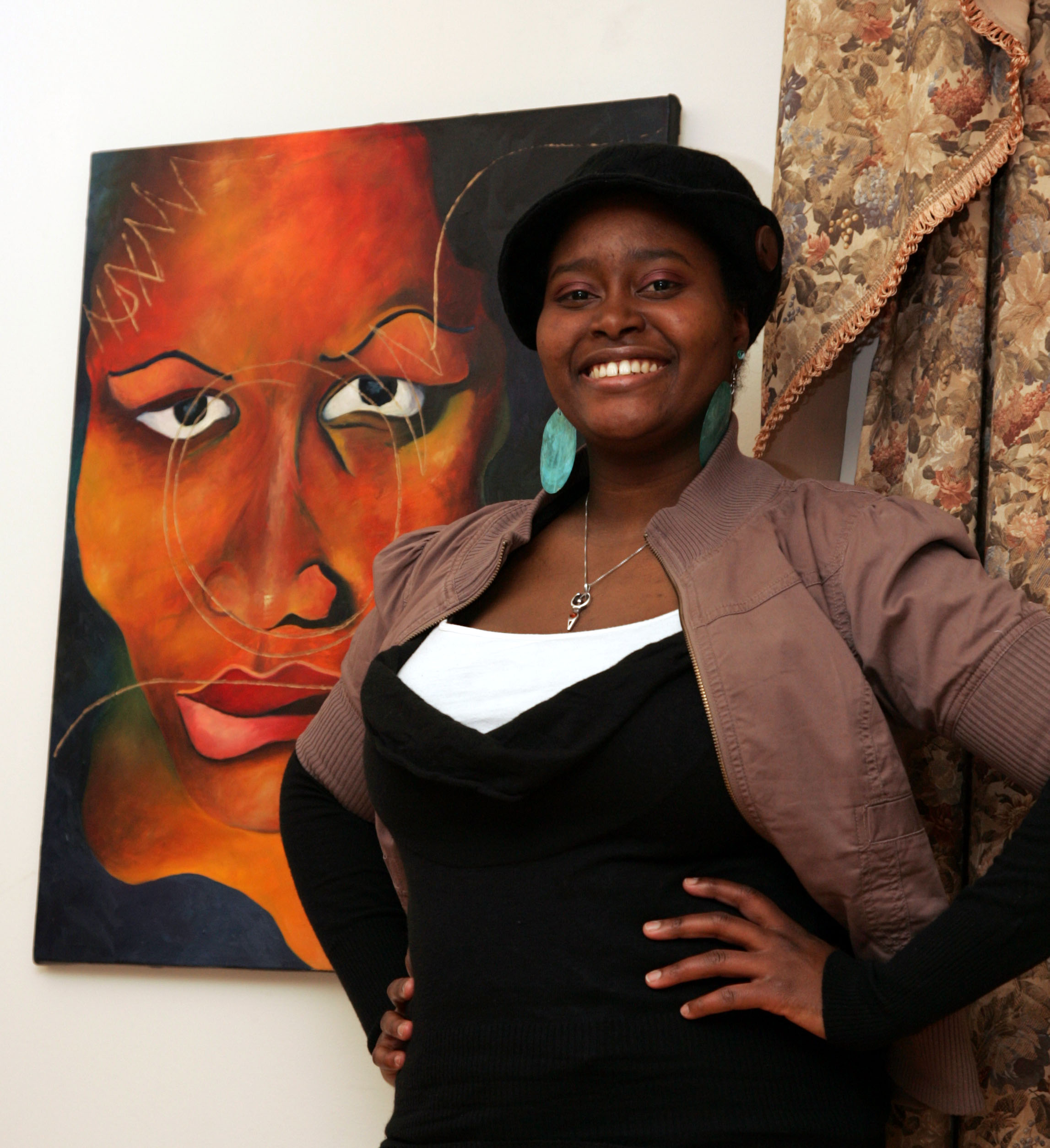 photo by Fred Towne
Sadee Brathwaite, is an artist, curator, arts facilitator and administrative professional. Her drawings and paintings explore issues of beauty, universal womanhood and the metaphysical. Often combining realistic representation with abstract imagery her work dwells in many realms.
Brathwaite was born in Barbados and moved to New York in the late 1980s. She studied art history at Kingston University in London, 2003, and holds a BFA in Painting/ Drawing from the State University of New York at New Paltz, 2004. Brathwaite has worked in the Hudson Valley at art institutions such as Dia: Beacon and the Deep Listening Institute. As an independent curator, Brathwaite collaborates with a variety of galleries and art spaces to exhibit art that reflects our diverse cultures. Her curated shows include a four year traveling cultural series in the Hudson Valley, exhibits at Arts Society of Kingston, NY and an ongoing international dream exploration project called 100 Artists/ 100 Dreams.
In 2008, Brathwaite was a guest on Toni Quest's Screaming Woman Talks radio program for PIVR. She has appeared frequently on episodes of Christina Varga's Apocalyspe Varga TV Show. She organizes networking and community building events and has been the co-coordinator of the Kingston Open Studio Tour for the 2008 and 2010 seasons. Brathwaite and her arts organization have been featured in regional publications including Hudson Valley Life Magazine, Ulster County Press, Kingston Times, Hudson Valley News, Times Herald Record and Daily Freeman.
As a creative consultant, Brathwaite works with organizations, businesses, and artists in different stages of their careers, to motivate and help reach maximum organization for efficient functions in pursuing endeavors. As an administrative professional with extensive experience in management and communications, she excels at project execution within small business and non-profit environments. She holds freelance and consulting positions, most recently as the Editorial Coordinator for BORO Magazine and the Communications Manager, AUMI for Deep Listening Institute.
Brathwaite has over 10 years experience working with children, individually and in group settings, to explore creative expression. She designs workshops to engage and educate utilizing collage, decorations, painting, drawing and other artistic mediums, all employing non-toxic materials. Brathwaite was the founder, and director of La Leona Women Painters Guild, a multicultural art collective that offered support to women artists through community. She continually advocates and appreciates the importance of diversity in the visual arts.


Selected Private Collections
Jennifer Altman, Hastings NY
Janice Anderson, Newark NJ
Kate Ayers, Indpls. IN
Jane Clarke, NYC
Rosemary Coleman, Rochester NY
Penelope Cookson, Toronto ON
Wendy Del Orbe, Allentown PA
Barbara Dorfman, New Paltz NY
Gerald Goldman, Rhinebeck NY
Andrea Goodman, Boothbay ME
Lisa Maria, NYC
Ione & Pauline Oliveros, Kingston NY
Shirley Parker Benjamin, Poughkeepsie NY
Tara Rainstrom, Albany NY
Julie Rose, Accord NY
Jesse Scherer, Rosendale NY
Selected Public Collections
Aurora Healing Arts, Brooklyn NY
Logotech, Fairfield NJ
Joni Wellness, Newark NJ